Dental Implants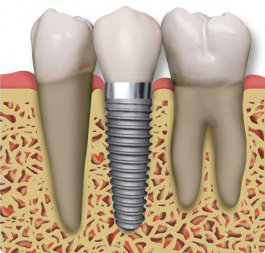 Looking for a full mouth dental implants clinic in Mohali & Chandigarh? Because missing or the lost tooth is one of the visible irregularities in human dentition that affect facial looks negatively. A broken or lost tooth not only affects your looks, but it also affects your eating process. It creates instability while biting food and every time you have to re-adjust your position to chew or bite your food. Moreover, it affects the structure of your mouth.
The best way to fill those irregularities is with Dental implants. A dental implant is a titanium screw which is fixed to the jawbone, it acts like the root of the tooth in this process. Once the screw is installed on the jawbone, a crown is joined to it, which totally looks like the original tooth.
Who is eligible for taking the dental implants?
A human, who is healthy with no major history of medical problems and wants to have a dental implant, can have it.
Firstly A Full Mouth panoramic x-ray and/or CT scan is usually required to evaluate the amount & quality of bone, determine the space available and for proper treatment planning to have the best outcome in each case. After that the type of dental implants selected will be dependent on the patients' specific needs and general dental condition.
In those cases where the decayed tooth is present & is beyond repair, such teeth are advised to be extracted. In such cases at the same time after extraction, dental Implant can be placed in an extraction socket, so there will be no extra sitting for that, & once after proper healing, a crown can be given over that Implant.
Read More: Diagnosis, treatment planning, and full-mouth rehabilitation
It is a completely safe and successful way to get your teeth into symmetry without much investment. We at Dr. Datta's Specialists Dental Care use the Top Quality Companies of dental implants with the success rate of up to 99.3%.
What are the benefits of dental implants –
• You get your missing tooth back, which is stronger than the old one.
• It doesn't allow the jaw bone to shrink over time
• The adjoining teeth are not hampered due to dental implant
• The re-adjustment doesn't cause any spacing in dentures
• If you take proper care, implants work as the life-long solution
• There is no need to replace the crowns even after years
• The implanted tooth is just like other natural teeth
Better S.E.L.F. (Speak, Eat, Look, and Feel)
• Improved self-esteem and increased quality of living
• No need to cut adjacent teeth
• Improves speech as compared to dentures
• Improve comfort as compared to removal as compared to dentures
• Prevents further loss of teeth and bone support
• Improves oral health
• Implants are highly durable
• No splitting, sliding or moving like dentures.
• Implants are totally fixed.
Can be used
Single tooth missing
Multiple tooth missing
All teeth missing
If you also have a missing tooth or teeth, which is beam affecting your appearance and ability to eat; we can help you at Dr. Datta's Specialists Dental Care, the best implants clinic in Mohali. Please contact us for more information.